From May 15 to 19, LIGNA , the world's leading trade fair for woodworking and wood processing, took place in Hannover, Germany.
Here Siempelkamp's partners were able to attract the attention of the large number of stakeholders with the motto "Digitalization and sustainability in harmony". In addition to an impressive experience walk, Siempelkamp's partners were able to present their projects and sector-specific topics for the leading trade fair of the wood-based materials industry.
Project partners of champI4.0ns will deal with the question:
"What synergies can the bilateral Austrian-German project realize and how can other sectors benefit?"
Representative:inside from wbk Institute for Production Engineering, KIT, DIO – Data Intelligence Offensive, Wood K plus – Kompetenzzentrum Holz GmbH and Joanneum Research have traveled to Hanover to present the project champI4.0ns to present the company to visitors of the fair in a broadly effective way.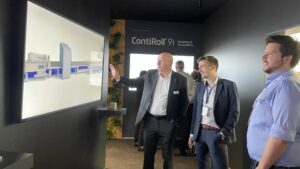 The project shows that the benefits of data sharing along the entire value chain are manifold. At LIGNA, concrete steps were reported in Use Case 3 "Stairs" (Weitzer Woodsolution & Joanneum Research) and Use Case 4 "Wood-based materials" (Siempelkamp & Pfleiderer). Practical applications of Data Science, AI and Big Data can be used, especially in proven industries, to make even smaller businesses, such as carpentry, more competitive, sustainable and efficient.
Visitors:in particular questioned the reason why data should also be shared outside their own company. The exchange at the booth about data sharing and its business potentials have shown that awareness needs to be built up further, especially among small and medium-sized enterprises. Individual companies are already leading the way and can thus strongly influence the industry to implement smart data use in the wood industry.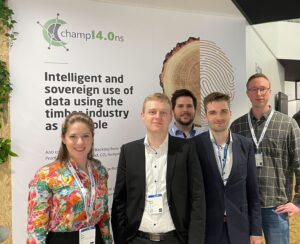 Participants:inside:
Martin Benfer (wbk KIT)

Kevin Gleich (wbk KIT)

Alexander Schneider (WoodK+)

Birger Bartuschka (WoodK+)

Lisa Kolar (DIO)

Gerhard Jakob (Joanneum Research)