Who are the use case partners of the champI4.0ns project? In our series "Champs behind champI4.0ns" we introduce the partners. The next partner we would like to introduce is Pfleiderer.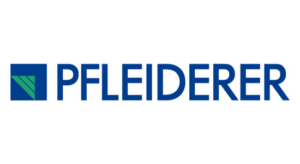 Pfleiderer is a leading manufacturer of high-quality engineered wood, laminates and resin-based adhesives. The business area Engineered Wood Products produces high-quality engineered wood and laminates used in the fast-growing market of high-end kitchens and furniture, as well as in structural woodwork in Western Europe. In addition, Pfleiderer's Business Unit Silekol a leading manufacturer of specialty and industrial resins. These find application both in Pfleiderers own products, but are also used by customers in the panel production, packaging, construction and building materials industries. Pfleiderer, headquartered in Neumarkt in der Oberpfalz, Germany, employs around 2,200 people mainly at five sites in Germany and one for adhesive systems in Poland. At Pfleiderer, sustainable work has been closely linked to the renewable material wood for over 125 years. The company places a special focus on sustainable sourcing and production, reducing carbon emissions and protecting the environment.
Pfleiderer & Siempelkamp is part of the consortium of

champI4.0ns




The possibility of support from competent partners in the context of digitization projects up to Industry 4.0 has been a major incentive for Pfleiderer as a manufacturer of engineered wood. Production processes in the wood-based materials industry are largely automated and data is collected on a large scale. Derive the potentials from the data and use them in a targeted way (without much effort) to arbeit, see it as a core task for the coming years. Pfleiderer isis working on a use case together with various partners. various partners explicitly with the implementation of of digitization solutions and is making its production facilities available as a test field in the application, as well as the corresponding data.
Together with the partners, they would like to conceptualize and develop the requirements from an industry perspective, how the working world in the digital production environment should be designed with regard to data utilization, and what possibilities exist.